About the Blog
Cultural Maturity—A Blog for the Future brings mature, big-picture perspective to the important questions of our time.> It is a contribution of the Institute for Creative Development, a Seattle-based, non-profit, non-partisan, think tank and center for advanced leadership training. It is designed to support the sophistication of understanding and decision-making needed if we are to have a vital and creative human future.
The Cultural Maturity Blog is different from most content on the web in essential ways. It can be thought of as a "news blog." But most conventional news becomes old news in a few days. A first way the site is different is that content is included only if it will likely be as or more significant five, ten, or even twenty years from now as it is today. A second way it is different helps clarify the first. The Institute's work centers around the ...
Featured Book Titles from ICD Press
I have now completed work on a new three book series (a ten year effort). Each book has similar intent—to help us make sense of the times in which we live and make sense of what the future will require of us—but has a slightly different focus and is written for a different audience.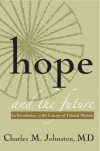 Hope and the Future: An Introduction to the Concept of Cultural Maturity is a short book (150 pages) intended for a general audience wanting to better understand the tasks humanity now faces.

Cultural Maturity—A Guidebook for the Future (With An Introduction to the Ideas of Creative Systems Theory) is a lengthier effort (640 pages) intended for those seriously interested in developing the new capacities that leadership in times ahead will require in all parts of our lives. It closely examines the changes that the concept of Cultural Maturity predicts and addresses how these changes are already beginning to alter our human landscape. And it introduces Creative Systems Theory as an important example of culturally mature conception.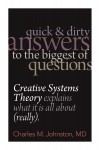 Quick and Dirty Answers to the Biggest of Questions describes how the new kinds of understanding we need today not only helps us address modern day challenges, they also bring a new maturity and creativity to the more ultimate sorts of questions. It is intended for people who find particular fascination in overarching theory.
See the ICD Press page for further details and ordering information
Below you will find links to useful websites and blogs.